This page is currently pending deletion. Reason: Not Gamevial-related.
Please

delete

any corresponding talk pages as well.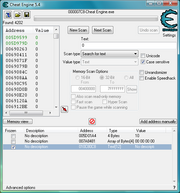 Cheat Engine (abbreviated as "CE") is an open-source engine created by Eric Heijnen ("Dark Byte") for Windows operating systems. The program enables gamers to configure a game's settings and features in order to gain advantages (i.e. infinite health or ammunition), as well as bypass certain laws or elements of a game.
The program's Direct3D manipulation tools also allow players to view other depths of the game or configure its appearance. The program is immensely popular with MMO games (such as Fly Like a Bird 3), where one is able to showcase Cheat Engine's features against other players.